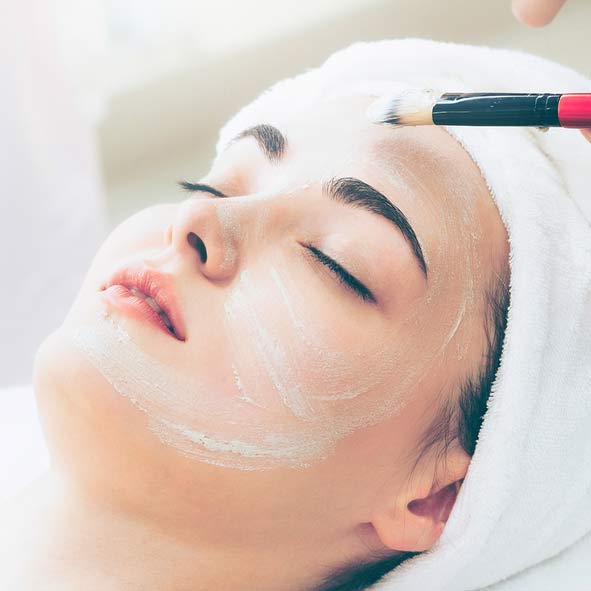 Basic Facial (European)
$85
A consultation and evaluation of your skin followed by a luxurious treatment. A cleanse, a gentle exfoliation, face massage and a treatment mask are included. Hand and arm massage with warm hand mitts are the perfect complement. Can be customized to any skin type. (45-60 min)
Available add-ons (please book these in advance):
Oxygen treatment w/ serum infusion $10
Foot rub $20
Age Management Facial
$95
For those seeking a more in-depth approach to resolving troubling skin issues. Fruit-based enzymes paired with milder concentrations of hydroxy acids and skin lighteners are utilized to rejuvenate sluggish skin, exfoliate the buildup of dead skin cells, and brighten the complexion. Hand and arm massage with warm hand mitts are the perfect complement. Dermaplaning is included for those who desire it. (50-65 min)
Available add-ons (please book these in advance):
Oxygen treatment w/ serum infusion $10
Foot rub $20
Facial with Extractions
$105
Ideal for those seeking a comprehensive acne treatment and extensive extractions. Fruit-based enzymes paired with milder concentrations of hydroxy acids are utilized to promote cell turnover by removing dead skin while unblocking the follicle to promote a clear, healthy complexion. Skin lighteners are utilized to help reverse post-inflammatory pigmentation. Hand and arm massage with warm hand mitts are the perfect complement. (75-min)
Available add-ons (please book these in advance):
Foot rub $20
LED Blue Light Treatment $30 (30 min)
Advanced Exfoliation
$120
A customized chemical peel is chosen just for you and your skin type and conditions. Enzymes can also be incorporated to achieve an even greater result. Dermaplaning can be included for non-acneic clients and will drastically improve the effectiveness of the peel. Hand and arm massage with warm hand mitts are the perfect complement. (50-min)
Available add-ons (please book these in advance):
Add a peel to the Decollete' $50
Foot rub $20
Hydro Dermabrasion (Hydro-Luxx) Facial
$120
Go beyond the standard facial with a combination of microdermabrasion and serum infusion utilizing water jets and vacuum technology. This treatment provides gentler yet effective exfoliation for all skin types including acne and comes with no 'downtime'. Stimulates lymphatic drainage and gives skin a natural glow. A special vacuum tip is used on the t-zone to easily remove impacted blackheads and sebum (oil) while simultaneously infusing the skin with hydration. The treatment is concluded with a oxygen serum infusion. (45-75 min)
Available add-ons (please book these in advance):
Foot rub $20
A cleanse, a gentle exfoliation, any necessary extractions, and a treatment mask are included. A face massage is the finishing touch. (45-60 min)
If extensive extractions are needed please book a 'facial with extractions'.
Available add-ons (please book these in advance):
Foot rub $20
Exfoliation and hydration for the back. A dry brushing followed by the appropriate enzyme and hydroxy acids under a gentle steam. Any necessary extractions, a treatment mask and a relaxing massage are included. (50-min)
For those under 18 needing advice or help with their pubescent skin. A cleanse, a gentle enzyme treatment, and a mask are included. Cooling cryo-globes are a finishing touch. (45-min)
Available add-on's: (please book in advance)
Foot rub $20
LED Blue Light Treatment to address bacteria and inflammation $30
Hot Minute Dermaplaning
$65
A cleanse followed by a dermaplaning will leave you exfoliated and glowing. A moisturizer and sunblock applications are included. Additional add-ons are not available with this express treatment. (30-min)
Hot Minute Brightening Facial
$65
A cleanse followed by an enzyme application will help brighten and lighten your complexion while leaving you exfoliated and refreshed. A moisturizer and sunblock applications are included. Additional add-ons are not available with this express treatment. (30-min)
Allow yourself to be perfectly pampered. ANY facial paired with hand, arm, foot and scalp massage. A 30 minute LED light treatment is also included. (90-min)
Available add-ons (please book these in advance):
Add a peel to the Decollete' $50
Lay down and relax while your skin is repaired.
Single: $30 (30-min)
Acne Package of 12: $300
Acne Package of 16: $400
Age Management Package of 16: $400
Age Management Package of 24: $600
Melasma, Sun Damage, Acne Scarring and Mild Acne
Series of 4 $405
Four treatments focused on addressing discoloration, texture and overall skin brightness through the use of progressive exfoliation, enzymes and peels. Please allow 1 hour for the initial appointment; 30 minutes thereafter. The first appointment includes a thorough consultation with photo-documentation, treatment outline, nutritional considerations and homecare product selection followed by a comprehensive treatment. Each session in the treatment series is typically scheduled 2-4 weeks apart. Homecare is a requirement for the treatment series and is offered at a 15% discount during the treatment and thereafter.
Waxing and Threading can only be done in conjunction with a facial
Brow $15 / With Tint $30
Chin $10
Lip $10
Sideburns $20
Nose $5
Brow Tint $20
Lash Tint $20
Brow and Lash Tint $30
Brow Clean-up w/tint $30
Brow Clean-up w/ tint & Lash Tint $40
Lash Lift (Perming) $60
Lash Lift w/ tint $70
Testimonials for Lynn's Skin Care
"My husband says last night, 'Your face looks younger.'  This is after a 12 hour day and getting home at 8:45 pm after the middle school dance!  You are a miracle worker! Thank you."
"Lynn is a brilliant aesthetician! She takes the time to evaluate your skin and needs. I've been using various products that Lynn has recommended and my skin has never looked better. Her facials are top notch and she is my go to person for eyebrows! In addition to her talent, she is so sweet and kind. I love when I go in for my appointment just so we can chat and catch up!"

"Hi Lynn, just have to tell you I really love what is happening to my face!! Thank you!"

"You always make me feel special and pampered! Thank you!!"

"What an amazing experience! Would recommend Lynn to everyone! So much more than I expected!"

"Lynn is absolutely amazing! I love the skin I'm in now that it has been under her healing touch!! So relaxing… so amazing spa experience! Love love!"

"Hi Lynn! As you know I'm at my sister's house in California getting ready to fly to Hawaii. So before I put on my makeup this morning, she looked at my face and she said, 'Oh my gosh your face looks so bright!'. And then of course I told her about you and dermaplaning! So now she's finding a place here locally to do it for her. I told her she should just come to Arizona and let you do it! LOL."

"Lynn is amazing and so are her services! She might be new at threading, but she's so good at it already. She's very gentle, was able to get all the tiny hairs and cleaned up my eyebrows so nicely.

I highly recommend her and will definitely be going back!"

"Lynn, I really appreciated that you took extra time with me. And you explained the process and what to expect in the 48 hours after the treatment.

I never felt rushed or pressured into purchasing products or additional services. You are very professional and make your customer fell comfortable and relaxed. Thank you!"

"Lynn really spoiled me today and I tried her threading technique rather the hot wax. It got ALL my fine tiny hairs and I had no redness. I'd recommend threading to those who aren't afraid to try something new. Thanks again Lynn!"
Call Lynn today at (928) 862-5056 to book your next skin care appointment in Cottonwood, Arizona.